We don't need a teapot, we don't use a teapot but this one ended up at our house anyway! All it took was some TLC and a fresh idea to give it a new home.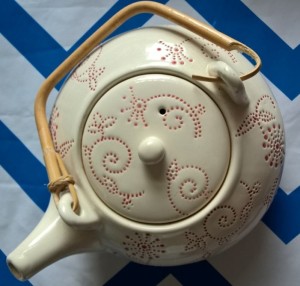 Wandering through the local thrift store I found this gem just screaming for some TLC. When I spotted this teapot I just couldn't pass it by. It was just so adorable that I just had to bring it home. I figured I would definitely find it a place in our home or garden.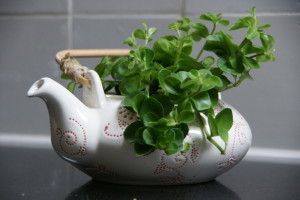 My first idea was to create a tea party in our chicken den by adding some tea cups and use it to hold their water and food. A bit of an Alice in Wonderland thing. But it would have been a shame of the teapot to stand in the dirt and it would have been to small for the chickens to drink.
All this teapot stuff got me thinking of The Hitchhikers Guide Through The Galaxy and Arthur Dents quest for a proper cup of tea throughout the galaxy. So here's just a really short videofragment from the movie just for fun.
Teapot to Planter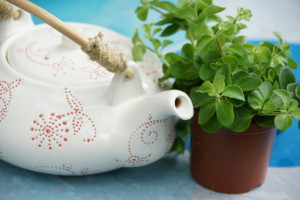 Now onto the teapot. I wiped down the openings of teapot to remove the tea staines. One of the handle attachments was gone and the other was broken. I took the remaining one of and wrapped twine around it. Which I glued into place and let it dry over night. The next day I cut off the remaining twine.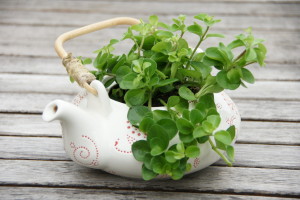 I filled the teapot with potting soil, watered it and potted the plant. The teapot found a permanent residence in our kitchen. Which made me think I might switch the current plant for herbs later on and add some nice teacups with other herbs! And so my to do list grows!