What to do if the little ones outgrow their clothes way to fast? Upcycling!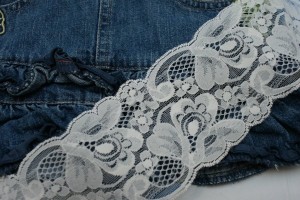 I really like the upcycling trend that has been going on. While I love buying new clothes. I find it hard to throw things away that are still in good shape but just don't fit me or my needs anymore. Usually I do a round up of my closet once a year and leave the bag in the attic. Everything that's still in the bag the next round goes to the local thrift store.
But ever since I picked up sewing again another options appeared. Even for the torn pieces. Upcycling!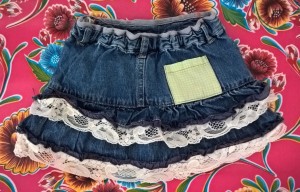 A little while ago I upcycled a polkadot shirt of mine which had a hole in it to this cute knot dress. This time my little girl had outgrown this cute "Nijntje"/"Miffy" skirt. Actually she had only outgrown it lengthwise. It still fitted perfect around her waist. I did have a before picture but unfortunately it's stuck on a frozen laptop 🙁 So no before photo's other than the zoomed in one above.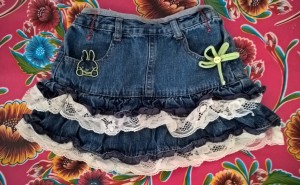 To add some extra length I added a lace trim to the existing ruffles. To do this I cut the lace in half and started pinning. And kept pinning, and pinning and pinning. (Again no pictures) 🙁 I had to put the pins really close together to secure the lace. Next up was sewing it in place. This turned out to be easier then a had anticipated (maybe because of the over pinning).
This is a great way to give a favorite skirt or dress some extra wear. Now she gets to wear her Nijntje/Miffy skirt a lot longer.