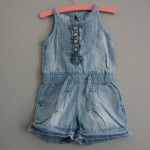 I'd like to show you a refashion I did for our little girl. Turning a romper into a dress and shorts.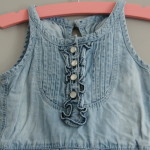 This romper was a hand-me-down. I loved the bodice, shirts and the washed jeans look. So you can imagine my frustration when it didn't fit. It was to snug around our little girls belly. I had already put it aside when the idea hit me.
Why not refashion it in to a dress and hopefully also save the shorts in the process?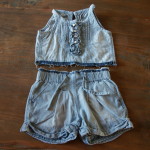 And so the seam ripping began. The manufacturer was kind enough to attach the short and the bodice with 3 seams. Hurray! After about 45 minutes I had two different pieces. I hemmed the shorts to finish the raw edges. This was refashion number one.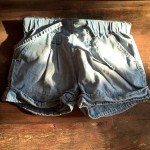 I went through my stash to find fabric to add a skirt to the bodice. I bought a few yards of voile over a year ago. At the time I didn't know what I would use it for. But I knew it would be something flowy for summer. So it was perfect for this refashion project! I was contemplating between a knee length dress and a maxi dress. A maxi dress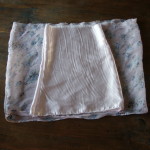 seemed so cute but because our tom girl climes a lot I was doubting if it was practical. So of course I decided to go with cute and ignore practicality.
I cut an under skirt. For the outer skirt I took twice the waist band length and gathered it. I hemmed the bottom. This was quit challenging because it is a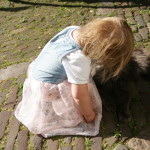 very sheer fabric. It turned out ok, but there is massive room for improvement on that one. I will look up some tutorials on working with light weight sheer fabric for a next time.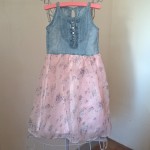 I attached the skirt to the bodice and tried it on her first thing in the morning! It think it turned out so cute. It turned out she could climb, run and roll in it. On the hind side I should have made the under skirt a bit wider the give her more room to move. But it doesn't stop her from exploring the big world around her.