Oh boy, I was gonna do some stash burning on the project run and play sew along but a friend called me last week to join her to a fabric market. So instead of stash burning I came home with a bag full of lovely fabrics.
And I had a promise to fulfill! The last few sewing projects I made were either for our little girl or for myself. And someone wasn't pleased with that. So after the princess Leia cosplay dress for last weeks challenge of Project Run and Play I promised my son I would sew him a new shirt and complete it with a cool iron on illustration.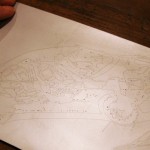 It was a bit challenging to combine this project with this weeks Project Run and Play sew a long: All that glitters! I choose to go with metallic instead of glitter. Once again I was amazed by the detail I got out of my Cricut Explore. I made two different templates of cars because quit frankly I didn't think the Cricut could do the detail and small elements on my preffered print. But it did and it did it with ease. It did take me half an hour to get all the pieces out of the template but it turned out great.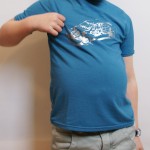 The new fabric haul included 2 jersey fabrics to make some shirts. I used a green blue jersey to do this project. It's a trail run before I dig in to the cool shark jersey I also scored. I used an existing shirt as a template and cut the fabric. The shirt came together so quick with my serg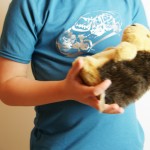 er. I keep hitting my head to the wall for not trying to retread it earlier. I used a twin needle to hem the sleeves and the bottom and it was ready. In the final fitting it turned out to be a bit tight. And that's exactly the point of a trail run isn't it? I will be sure to cut a little wider when using the shark fabric. I'm planning to make him another shirt out of an amazing shark jersey. I hope there will be enough left to make a skirt out of it. 😉