I back for the next sew along challenge of Project Run and Play. This weeks theme is Cosplay. Which had my head spinning with possibilities. Just google Cosplay and you get so much amazing costumes. the only rule "So for this challenge create and outfit INSPIRED by by the cos play craze. (But not a costume!)" So read on the see what I came up with!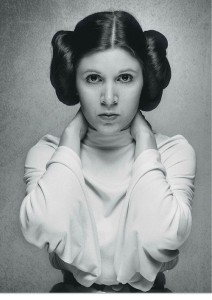 After going over a lot of different ideas I chose to take Princess Leia from Star Wars as an inspiration. I love both the standard white dress as her ceremonial gown, don't you? The gown is more feminine but I really love the flowy sleeves and the hood on her white dress. The dress I came up with is a mix between both the gown and the dress. In the end I decided the drop the hood to make it less costume and more dress.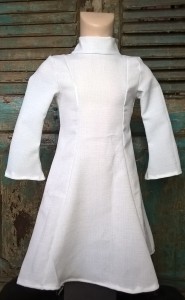 This sew along gave me the opportunity to try some variations on the dress pattern I'm working on. I added a cowl and changed the back pieces from three to two pieces. This last adaptation still needs some work but it creates the opportunity to add a zipper in the back. Which is great when you work with non stretchy fabric.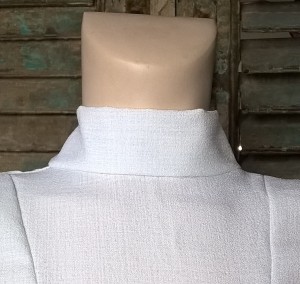 I finally got my serger working today after 4 attempts with breaking treads 5 months ago. In the end all I did today was retread the machine and it worked. So you can recon I was a bit pisses at myself for not giving it another shot earlier. Better late then never, I guess.
After three fitting sessions during the construction of the dress my little girl was getting a fit. She made it very clear she was NOT gonna try on the dress once it was finished. "DOESN'T FIT, DOESN'T FIT, NO, DON'T WANT" was as far as I got. So for now "her" doll has to do the honors and model the Princess Leia inspired dress.