We have come to the last post about our boys pirate party. After the preparations and the treats you can read about the pirate games we played and the pirate cheese cake in this final post on the pirate party.
Pirate games: Digging for treasures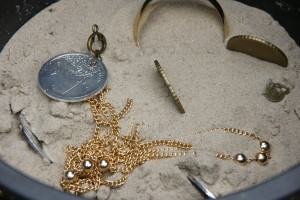 What's a real pirate party without digging for gold?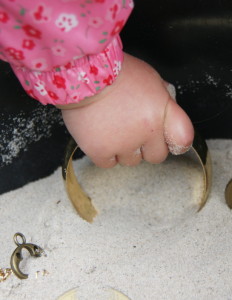 This was another Pinterest inspiration based on this pin. I filled a bucket with sand and treasures like keys, a bracelet, big toy coins and an old necklace. I outlined the treasures on paper and put it next to the bucket. This way the kids could keep track of their treasure finds. They loved digging in the sand with their hands to reveal te treasures.
Walk the plank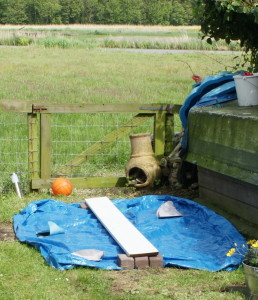 "Walk the plank" was a big hit. At one point 8 kids were forming a continuous circle over the plank and around the sea. The sea was made out of the pool canvas which was secured at the corners. I raised the plank with a few bricks to increase the hight.  This made it a little more challenging to walk the plank without ending up as shark bait. The shark vins were made out of two US-letter sized pieces of craft paper. I traced a folding line at 5 cm (2 inches) and the outline of the vin. I cut them and glued the pieces below the folding line together. I also glued the tip of the vin and cut some scars in them. Unfortunately I didn't get around to getting a picture before or during their play. So the aftermath picture has to do! I guess the sharks didn't make it.
Quick pirate cheese cake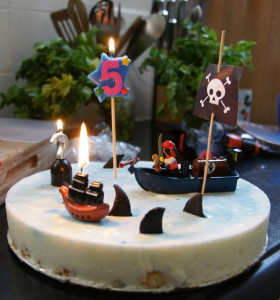 With all the planning for the party the party cake didn't get a lot off attention this year. I stuck with cheese cake, apple pie and brownies. The brownies were made by 6th graders at our sons school to collect money for the school. The cheese cake is a family recipe. The recipe I have is a copy of a hand written version by my grandma and I don't think I have ever had a birthday without it. For the pirate cheese cake I added some food colouring to the top layer to create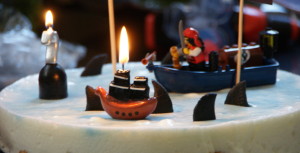 a sea look.  I added a lego pirate boat and made shark vins out of black marzipan. I made little cuts in the cake and stuck the shark vins in. Some candles and we were good to go. It came together really quick and still got ohh's and ahh's.
I hope you have enjoyed reading about the pirate games and cake an got inspired to use parts for your own party!