I'm back in the saddle for the new season of Project Run and Play. In this post you will find my entry for this week for their "Nothing but Knit" challenge. I'm working on a girls dress pattern and this is a jacquard knit dress I made with it. I hope you like it!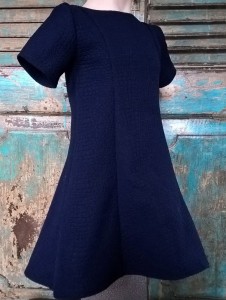 I have been absent here for a while. While I love sharing my creations and instructions with you guys I love living my life and enjoying family live with my kids, cats and SO even more. So you could say life just happend! I have been crafting and creating in the mean time just couldn't find my blogging mojo. So hope to been sharing some work in progress and finished projects soon.
So what project is better to get back to blogging than Project Run and Play. One of the first posts on JoorCreates is for my entrance for their bubble dress contest last year. Some of my other entries were the knot dress and the chevron top.
Project Run and Play Season 11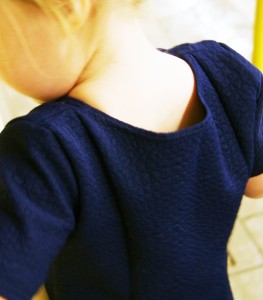 For season 11 they changed their set up back to their old platform. 6 contestants, 4 weeks, prizes, sew alongs. This weeks challenge is "Nothing but Knits" so I started brainstorming. I have been busy designing a dress pattern for my little girl based on some features which I find work for her and me in dresses. I love dresses like the Party dress from the cottage mama with a bodice and separate skirt. But when I looked at the features of the dresses both she and me wore most last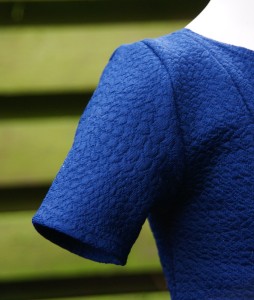 summer they were made out of pattern pieces which run from to to bottom which gives you the opportunity to follow curves and let the skirt flare. (Update: TIL these are called princess seams)
So this is my entry for this week of Project Run and Play is this navy blue jacquard knit dress. I never worked with jacquard before but I really loved it. It is a knitted fabric with relief patterns woven into the fabric. My fabric was firm but still has a quite some stretch in it.
The knit dress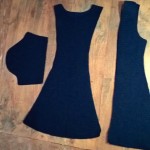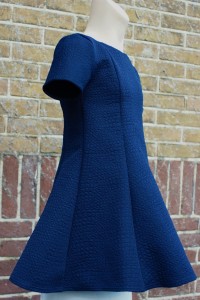 I cut out the pattern pieces and started sewing them together late at night. The knit dress came together quit quick and after an early morning fitting session with a wiggling toddler I hemmed the neckline, skirt hem and the sleeves using a twin needle.
I hope you like the dress as much as I do. She wore it yesterday and already got a lot of compliments. 2 friends are actually picking out fabric so I can make their girls a dress to. Which will be great for me, because this way I can adjust the pattern to other sizes and give it a few extra testruns.