A few weeks ago school started again. So no more waking up when the earliest riser shouts out for mommy. No more mornings in PJ's and making a relaxed planning for the day. Nope, we are back to: alarm clocks, "Will you please get dressed?!", " What do you want for breakfast, 10 o'clock snack and lunch?" and leaving for school 5 minutes late!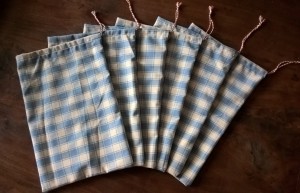 School opened in a new building this year and it's amazing. It's has such a calm relaxed look and feel and the kids and teachers love it. With the new building and a new neighborhood being build close by the school is growing. This for one resulted in insufficient drawstring bag for the gym clothes. My sons class needed 8 additional drawstring gym bags this year. They had considered getting something like these Personalized Drawstring Bags with the school logo on, however, since they only needed 8, I volunteered. So this mommy volunteered and I got behind my sewing machine. I will give you a short tutorial on how to make your drawstring bag. There are lots of tutorials out there, but a lot left me with raw edges at the drawstring tube so I freewheeled this idea and was very happy with the outcome. It does make it much easier if you do this task using a sewing machine, simply because there's so much sewing, so you should look at this guide comparing the best juki sewing machines to see which one you want. It'll just make things a lot easier.
Estimate the size for your finished drawstring bag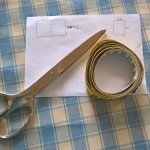 The existing bags were 22 by 34 centimeter. And the new bags had to match that size. Estimate the size you want for your finished bag. Add 2 cm for seam allowance on the side. Than add 3 cm to the other side. This is 1 cm seam allowance and 2 cm for the tube. If you want a narrower or wider tube you can adjust this measurement. My measurements were 46 by 37.
Cut and pin
Now you can cut your fabric the size you came up with above. The next step is to pin the bottom and side. Stop pinning about 5 cm from the top to leave room for the tube. You can turn a pin the other way than the rest of your pins to remind you were to end while sewing.
Start sewing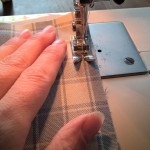 Start sewing at the bottom of the bag and sew till 5 cm from the top or till you reach your "reminder" pin. You can use a serger for this part or zigzag the raw edge like I did.
Finishing the side of the tube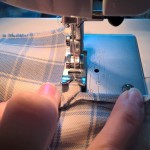 To finish the raw edge on the fold it over once and pin and sew it into place. You don't have to fold it over twice because the raw part it will be inside the tube.
Back to pinning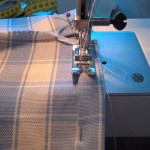 Now fold over the edge 1 cm and than another 2 cm. The right way is to iron both these steps but I tend to be a bit lazy when it comes to ironing and I don't want the hot iron standing around when the kids are in the room so I just pinned and sewed the tube into place.
Add a drawstring to the drawstring bag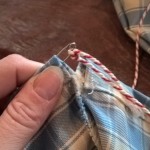 Use a safety pin to pull the string trough the bag. Pull it out about 10 cm (each side), cut and knot it. There you go, a finished drawstring bag. Now only 7 more drawstring bags to go!