Create a custom look for your boys dresser by switching the boring standard knobs for toy car dresser knobs.
Over a year ago I posted a picture on Pinterest of our boys new wardrobe dresser with toy car dresser knobs. People repinned it and were wondering how the toy car knobs were made. I've been meaning to show you how you can make your own dresser knobs ever since I started this blog.
Supplies:
A dresser or closet
Toy cars
Round headed bolt
Nuts
A (pillar) drill
When his little sister was due we needed a new wardrobe closet for our boy because his little sister would get his furniture. We were actually expecting a lot of drama with the switch and already switched him to his new bed three months in advance to give him time to adjust. You can imagine our surprise when it only took him one night to get adjusted to his big boy bed. I guess he was ready to grow up more than we wanted him to!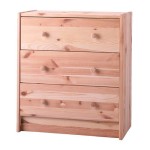 We bought the RAST 3 drawer chest at the local IKEA. I love that the RAST is made out of solid wood. This makes it sturdy and easy to hack or customise. For this project I stuck with customising the RAST. I bought an off-white non toxic paint at the hardware store and painted all the wooden parts. All but the dresser knobs!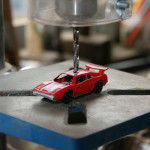 I bought the toy cars at the thrift store. The next day I went over to my dad's and used his pillar drill to drill holes through the toy cars. You can use a normal drill just as well but I was going over there anyway. If you use a normal drill you can secure your toy car in a bench vice before drilling. This way if the drill slips you won't harm yourself. If you're in need of a good quality drill, check out these cordless drill reviews over at the Coolest Gadgets website.

While I was at the hardware store to buy paint I also grabbed 6 round headed bolts and nuts. I used them to attach the toy cars to the dresser. And voila a whole new look!!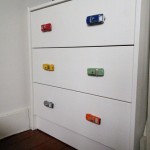 I originally planned on doing this with plastic farm animals but our then toddler boy persisted on cars. The options are endless as long as you can drill a hole in it and the object still is sturdy enough. I am waiting for the next kids room make over!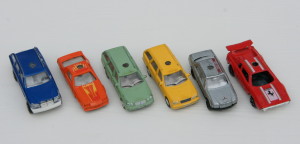 What would you want to use as dresser knobs?
This project has been featured at: